The Intentional Observer
Feb 15, 2023
Neil Berkowitz

Ok. In my first and only previous column I suggested to you that we consider what it means to live within a world of made things. Now, for reasons that may become clearer as you read, I ask you consider that made things don't have to meet some minimum lifespan to be valued for what they show us. They can be here and then not here in an instant.
That goes for art too. Think about bubbles. I hope we all had the chance to blow bubbles when we were kids (while I also suspect that some did not—and that it is up to us to see that). We made those bubbles, perhaps collaborating with a parent or sibling, and they were beautiful. What awe we felt at we and the elements could make. We watched our creations, seeing both them and the sky differently as they rose or fell. Then they were gone. But we knew that they had been here.
I saw Hannah Höch's painting, Three Faces, at the Berlinische Galerie, just a block or two away from The Jewish Museum Berlin. Although the painting exists today it isn't the sort of work that Höch is known for by those who write to tell us what to see. Höch knew at least some of what needed to be actively witnessed at the time of the painting. (Her photo collages in themselves are an opportunity to practice more intentional observation.) I know that her making that image at that time took far greater courage or commitment or acceptance of sacrifice than my viewing of it I too was an am a witness. I saw the painting in Berlin during the Jewish high holidays. I had been staying in Mitte, just a few blocks away the Neue Synagogue and in a neighborhood with some Jewish stores. And around each of those shops, closed throughout the holidays, and around the synagogue were police with heavy arms.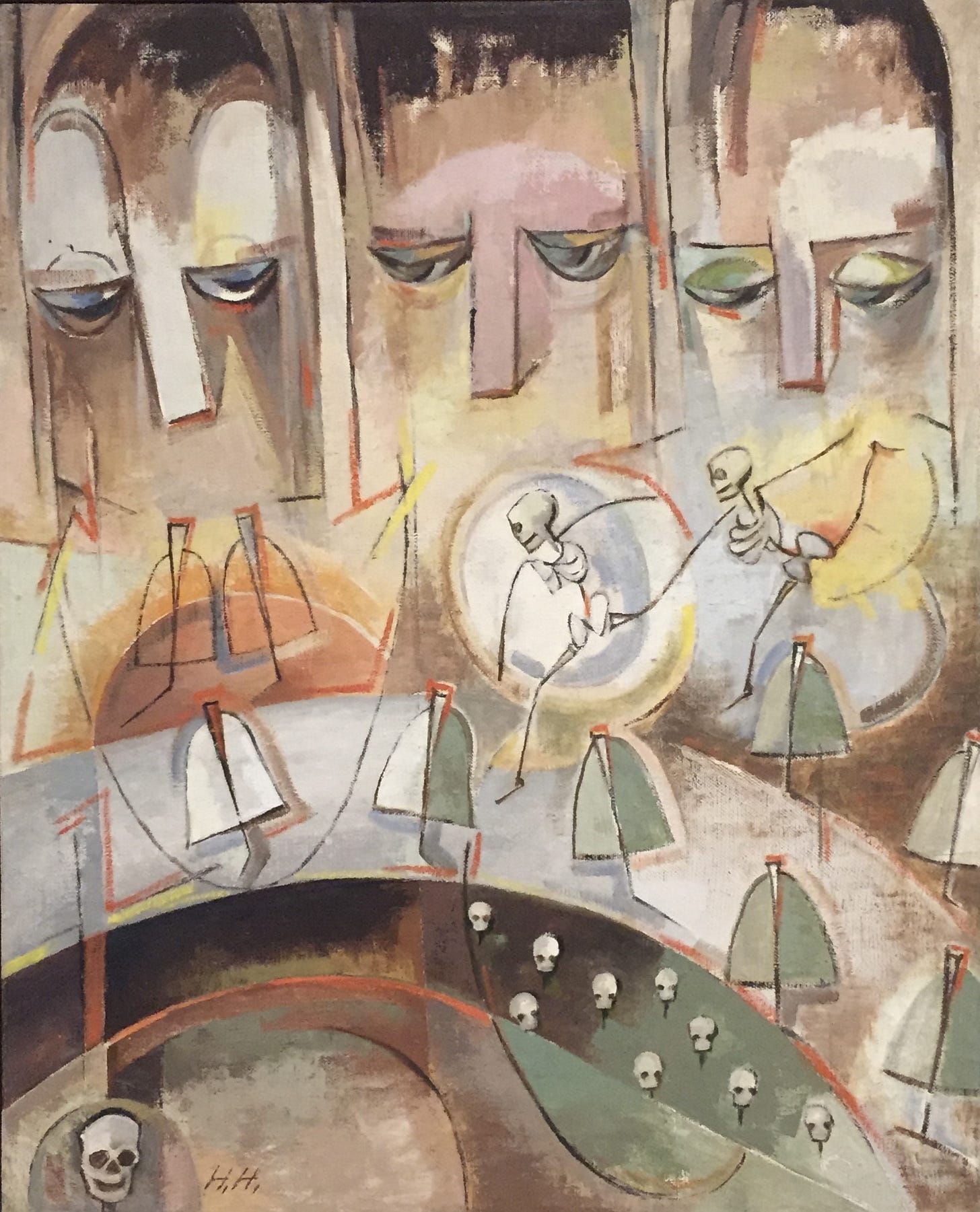 Berlin at the time that Höch painted Three Faces and at the time of my visit brings us to back to our own countries and our own times. The Seattle Art Museum recently had an exhibition presenting the photography of Carrie Mae Weems and Deywould Bey. On my third and final visit I noticed a series of small, reddish brown marks on the floor between the seating and the screen in the installation of video component of Constructing History: A Requiem to Mark the Moment. It seemed that Weems might have included something that drew a blood connection between the work, the viewer, and the events that Weems was putting in view.
After checking with the a curator at the Grand Rapids Art Museum, which had put together the exhibition, and another at the Seattle Art Museum, whose iteration might have included additional guidance from the artist, I learned that I, not Weems, had added that element. But to me that strengthens both my observation and my case for observing deeply. Weems' art made me connect it to my world and to the space and meanings of the installation. I had asked two women seated on the benches about the blood trail and one said that she had thought the same thing. We each expanded the work and brought into our greater understanding.
What do you blot from your view? Will you stop and witness the everyday rather than just the headlines? Tyre Nichols, Emmett Till, George Floyd, Michael Brown. These are the seen. But like so many other realities, racism and institutionalized hatred, violence, and oppression (I promised in my introduction last week that The Intentional Observer would not be political and I will keep that promise. But standing up for the humanity of our neighbors isn't political in any essential way even if it has been passed off by politicians partisan politics) can be seen by every one of us every day.
"Pay attention" may be one of our most important and most neglected lessons.
Resources:
Thanks for reading The Intentional Observer!
Subscribe for free to receive new posts and support my work.