A Exciting Commission
I've be invited to design art for about 550 square feet of wall space in the new branch of the Odessa Brown Children's Clinic, now under construction in the Seattle's Othello neighborhood. By contract I cannot show the chosen work until the clinic's formal announcement later in the year.
Here are some of what I created as possibilities for the site but that will not be included in the final project but are available for exhibition, rental, and purchase. Note that this is large work, intended to be over 8 feet in height. So the images here lack considerable detail.
The work above reinvigorated an interest in portraiture, which has occupied me at summer's end. Here are some of my thoughts on portraiture, followed by additional works in my now growing project. First Encounters is a series of multilayered photographic images in which I've asked complete strangers to pose for me and then blended the portraiture layer with several from the surrounding location. The three portraits above and the first three below are part of the project.
I didn't interview the people in my First Encounters series and I know no more about them than I leaned from asking them to pose. Why should I pretend that portraiture captures. At its best it suggests.
Visual portraiture is a unique form for so many reasons. It takes the expansiveness of a human life and frames it, something that gets clumsier and more unreliable with every attempt to be objective. So it is more effective if it offers up a open story. Even when the subject is well known the visual portrait is a much about a life, a person, as it is about a specific, named life. We may know that we are viewing a named individual but we respond to that person as a construction we build from the information in the portrait–and thus as an identity, real and defined but without history or verification. We know what we know about that identity and feel what we feel. But if we are wise enough we recognize both the difference between our constructions and the lives of the subjects and the value of understanding those constructions.
So the detailed presentation of the physical person should not be central to portraiture but merely as one of many elements whose inclusion may help the observer form a subject identity and connect it to his or her understanding of human lives. Some of my portraiture work places the physical subject at the core of the portrait but includes elements to supplement the information about that person's life. At the opposite end of the spectrum are portraits that exclude the physical appearance of the subject from the array of ways to establish her identity. In other portraits I offer a generally representational image of the subject but obscure it in some way that suggests we need to look beyond the facial recognition to grasp something of the life.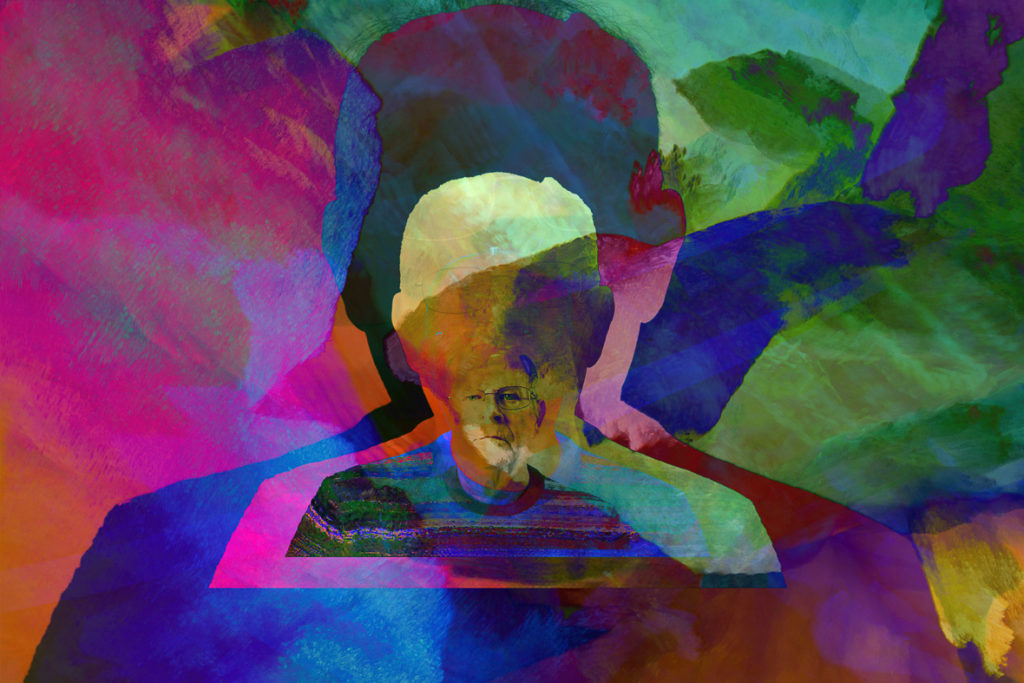 I continue to create for other projects as well. The following piece is one of three recent efforts that each grew out of an interest in grasping the aging of place, which is the topic of a curatorial project that I have proposed for a possible residency.
I'm still thinking in mural mode as a result of the commission. So I created for a proposal for large still life work for display at a transit station, where it would be shown at 75″ x 225″. I also will offer it at 44″ x 124″ in an edition of 3.