Alas, I had to withdraw my Precurated Legacy series from the Rotterdam Photo Festival. But I will have a new work there nonetheless, also on the theme of "The Human Blueprint," when and if it takes place. In it full installation (not at Rotterdam) this large print will be accompanied by smaller prints of each frame that observers can rearrange in ways that make the most sense to them. They will then be able to share their curations to supplement the exhibit.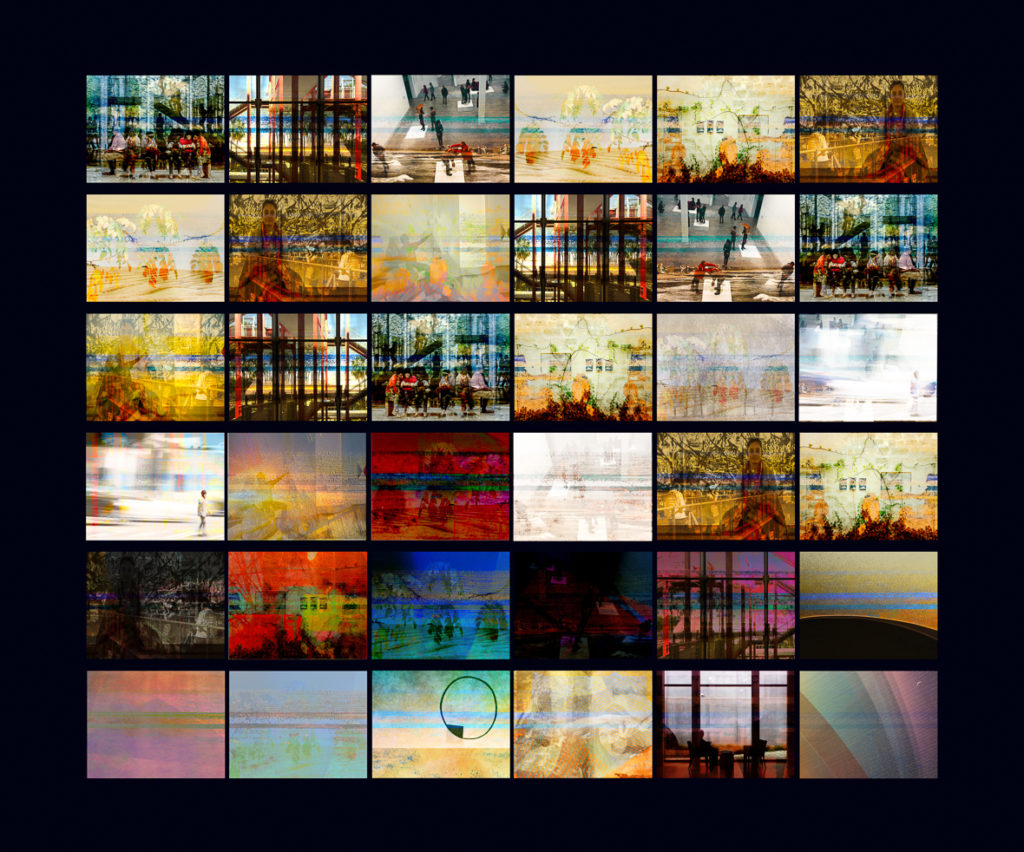 I've used more than 250 photographic layers from nearly two dozen places in thirteen countries and six art museums to produce this work, which suggests that the key to thriving tomorrow is connection and effort today. The reuse, recombination, and replacement of its layers the work tells us to test what to hold on to, to look at different options to use what we have, and to willingly toss what holds us back or erodes the good. The contact sheet format further suggests that today is an unfinished work. NOTE: Immense levels of detail are lost in the online image. So I will be glad to provide detail files on request.
---
The following three works are part of my Precurated Legacy project that was selected for the 2022 Rotterdam Photo Festival, whose theme this year was "The Human Blueprint." Since museums are a cross between time capsules, cultural advertising, and a catalog of samples of what we have produced. For that reason they offer a wide range of considerations for a human blueprint—though in my mind we are in no position to provide blueprints and ought to go no further than to offer notes and critiques instead.
I believe that we experience and understand a place, as we do with so much else, by forming connections between it and our experience of other places. So I cannot fully appreciate Shilshole, where the semi-panoramic layer here was taken, with the wetlands of the Union Bay Natural Area, or two spots on the outskirts of Yellowstone, which provide the rest of the image layers here. Note that you should try to view this as large as possible to see both texture and detail like the cars on the shoreline or the pole on the jetty), which will be finer in the final print.

This looks both south and west from the same point on a trail at the Union Bay Natural Area. None of the layers were shot at night. In fact, beyond the impact of the normal ambient nighttime light, the area is just northeast of Husky Stadium at the University of Washington. So the added light from that part of campus means that true night never arrives here. This condition of a seminatural reserve that cannot find night was my inspiration for this piece.
I've been thinking about the aging of place but had not yet produced any work on the theme until this one. We grasp the concept of geologic time through tropes of scale. So we correctly understand its comparative enormity to our lifespans by comparing grains of sand to beaches. But the tropes and the lack of a distinction between notions of the pace of time and the speed of aging trick us into thinking that the geologic time is keeps to a steady pace. And so we dangerously misunderstand our times, when the pace of geologic change is nearly the same as human time.